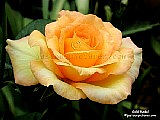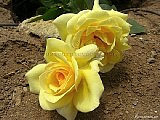 Some Yellow Roses of Texas to all you Mommies out there!
My grand daughters, 4 and seven, helped Daddy make "Breakfast In Bed" for me and my daughter this morning!
What a wonderful time I had. I babysat with them last night so Mom and Dad could go out to supper and a movie and the girls told me Daddy was going to make breakfast for us in the morning for Mother's Day. They asked me what I wanted and I said scrambled eggs with sausage, English muffins, a little honey, and coffee. The 4 year old tells me to write it down because she will not be able to remember all that!
At 6:45am the seven year old comes in and asks me again what I want for breakfast. At 7:15 the four year old comes in and catches me reading and drinking coffee and says Grandma go back to bed and pretend you are asleep! She put me back to bed and says "Grandma, close your eyes, and take your glasses off! And no happy smile! Pretend you are asleep!"
I had a very hard time keeping a serious, sleep look on my face! lol
Hope every Mommy and Grandma has as wonderful a morning as I did!
God bless and Happy Mother's Day!