"The patriot who feels himself in the service of God, who acknowledges Him in all his ways, has the promise of Almighty direction, and will find His Word in his greatest darkness, 'a lantern to his feet and a lamp unto his paths.' He will therefore see to establish for his country in the eyes of the world, such a character as shall make her not unworthy of the name of a Christian nation." Francis Scott Key, 1814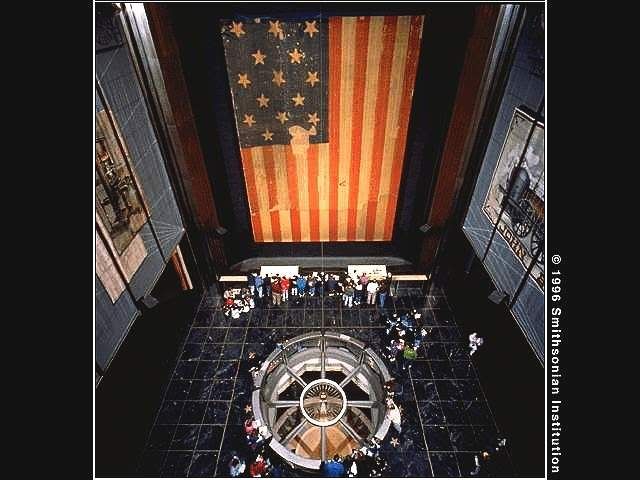 Fort McHenry 15 Star Flag on display in the Smithsonian
In 1813 the commander of Ft. McHenry asked for a flag so big that "the British have no trouble seeing it from a distance." He asked Mary Young Pickersgill to make the flag for him. Her thirteen year old daughter Caroline helped her. She used 400 yards of fine wool. They cut 15 stars that were two feet across. There were 8 red and 7 white stripes. The stripes were each two feet wide. When it was finished it measured 30 by 42 feet and cost $405.90.
Francis Scott Key watching the British attack on Fort McHenry
Francis Scott Key was with the British fleet bombarding Fort McHenry. He was there to arrange the release of an American doctor who had been arrested (captured) by the British, as the local people were afraid the British would hang the doctor. At first the British would not consider the request, but Key showed them written statements from captured British soldiers, stating that the doctor had given them good treatment. Having negotiated the release, Key was detained until the attack on Fort McHenry was over.(so he could not pass intelligence on the British fleet positioning to the Americans).
All through the night Key watched what was recounted to be an intense shelling of the fort. The Bristish were firing rockets and a newer type of projectile that would often explode prematurely in mid air, (hence in Key's poem...bombs bursting in air and rocket's red glare). Towards dawn the shelling stoppped and Key was very anxious for the fate of his countrymen, only to after awhile learn that he was to be released and that the British were withdrawing.
As the sun came up Key saw the US Flag still flying over Fort McHenry. He was so grateful, as he later related, that he immediately started to think of lines for the poem he would compose.
He was so inspired he began to write a poem on the back of a letter he had in his pocket. The poem that Francis Scott Key wrote was first published in the Baltimore Patriot newspaper on September 20th, 1814 and was entitled 'Defence of Fort M'Henry'. It became popular and was eventually reprinted in papers as far away from Baltimore as Georgia and New Hampshire. Key's brother in law suggested that he have the poem set to the melody of a popular English song, 'To Anacreon in Heaven'(which he did with the help of a music publishing company), and in October a Baltimore actor first sang the song at a public performance. It had been renamed, 'The Star Spangled Banner'.