I am not feeling very creative this morning. So HELP! Give me something to spark my interest! From handmade to healthy food, whatever is on your agenda this week.
I spent the weekend making yogurt and started my cream cheese (we will see how that turns out!), and some chicken broth to freeze for soups.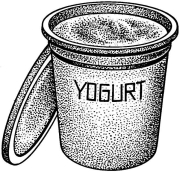 So far I have lost over 10 lbs in a couple of weeks just by dropping store bought breads from my diet, eating more vegs and fruits and juices. I haven't even started the GAPS diet yet. Ordered the book and anxiously awaiting it's arrival.
I want to learn how to do canning so welcome all links to helpful sites.
Leave a link to what you are working on, or share a tutorial or video, or share an art and craft supply product that you have used and like and would recommend to other crafters.